Why a Lightning Protection System?
A properly designed and installed Lightning Protection System will protect LIVES and PROPERTY against lightning damage. Such a system is designed to safely carry lightning currents to ground without damage to the protected structure.
A typical system will consist of air terminals (lightning rods) and ground terminals which are connected together with low impedance conductors. These conductors are usually copper or aluminum as are other components of the Lightning Protection System. These metals and their alloys are specified not only for their electrical conductivity, but also for their corrosion resistance qualities. In addition to these basic items, LIGHTNING PROTECTION STANDARDS AND THE NATIONAL ELECTRICAL CODE require separate grounding systems to be bonded together as well as other metallic items that may provide a short circuit path between grounded items.
A properly designed Lightning Protection System will also take into consideration the myriad of electronic devices found in today's homes and businesses. Surge protection devices should be provided to guard against unwanted electrical disturbances from entering the structure via the electrical, cable television, telephone or data lines.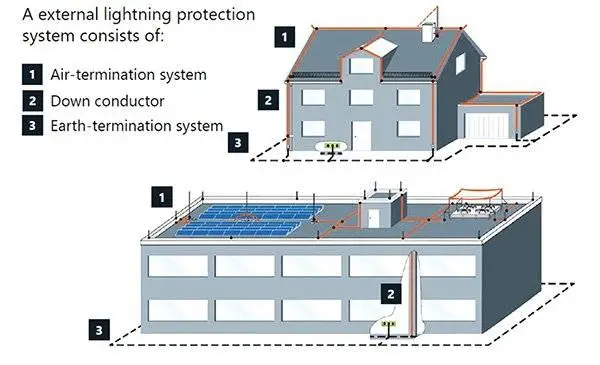 ABC's of Lightning Protection
Always engage an expert firm with proven knowledge, experience.
Always deal only with a firm that has a proven record of their knowledge of Lightning Protection, their honesty and integrity.
Some contractors often assure the customer they are "Certified" by a manufacturer or a trade association. While this may sound impressive, it is no proof of their qualifications.
Harger factory trained installers are qualified. Harger trained installers receive classroom training – not just on the job training.
Harger's experience is broad and extends over a period of more than 50 years. Harger has designed and ensured certification of systems all across the country.
Be sure your system has an Underwriters Laboratories Master Label Certificate.
Be sure your installing contractor can and will furnish a Master Label Certificate from Underwriters Laboratories for your system.
There is no other certification system that offers a disinterested, third party approach to your lightning safety.
Underwriters Laboratories, Inc. is an inspection organization that is dedicated to testing for public safety. They have been testing and inspecting lightning protection systems for over 100 years. Their Master Label Service involves the factory testing and inspection of system components plus field inspection of completed systems.
Be sure your lightning protection system has been issued a UL Master Label Certificate of Inspection. Log on to www.ul.com/lightning to find your certificate.
Compare quality before you buy.
Many systems are sold on price alone or by those not trained to know the requirements of safe, quality lightning protection.
Ask for a design drawing and a list of materials you will receive for your contract price. Compare these for each proposal.
As in other industries, there are always those who can make something a little worse and sell it for a little less. You should insist on quality equipment that is well engineered and properly installed.
Harger only manufactures components of the highest quality. They are factory tested and inspected by Underwriters Laboratories. Harger components are identified not only by their obvious quality of materials and workmanship, but the U/L Listed marking and our U/L control number, 50H2.
Did You Know…
….More than 18,000 homes are damaged or destroyed each year by lightning? Annual property loss reaches into the hundreds of millions of dollars.
…Plug-in surge protectors don't always protect your computers and other household electronic systems?
…Trees do not protect? They frequently provide a path for lightning to follow into your home or building.