Louisville Lightning Protection
We understand the dangers that lightning poses to both commercial and residential properties. That's why we offer lightning protection services to protect your property and ensure your safety.
Lightning can cause significant damage to your property, including structural damage, fires, and damage to electrical systems. It's important to take steps to protect your property from lightning strikes.
Lightning Protection Benefits
Protect Your Property
Lightning protection systems can protect your property from the damaging effects of lightning strikes. This can include damage to structures, electrical systems, and other equipment.
Increase Safety
Lightning strikes can pose a serious risk to the safety of people in and around a building. Lightning protection systems can help to ensure the safety of those in and around the building.
Reduce Risk of Fire
Lightning strikes can cause fires in buildings, which can be devastating. Lightning protection systems can help to reduce the risk of fire caused by lightning strikes.
Save Money
Lightning damage can be costly to repair. Investing in a lightning protection system can save you money in the long run by reducing the risk of damage to your property and equipment.
Why a Lightning Protection System?
A well-designed Lightning Protection System is essential for protecting lives and property from lightning damage. It consists of air terminals, ground terminals, low-impedance conductors, and other components.
The system must meet lightning protection standards and the National Electrical Code, as well as consider electronic devices in the structure and provide surge protection.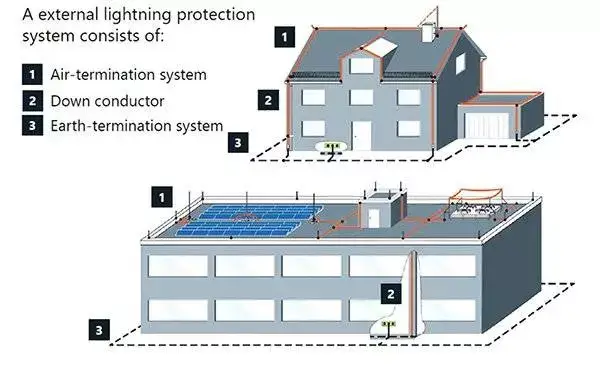 At Laswell Electric, we specialize in providing high-quality lightning protection systems for both commercial and residential properties. Our team of experienced electricians will assess your property and recommend the best solutions to protect your property from lightning strikes.
We'll take care of the installation process, ensuring that your lightning protection system is installed correctly and efficiently.
Contact us today to schedule a consultation and learn more about how our lightning protection systems can benefit your property. Let us help you protect your property and ensure your safety!
ABC's of Lightning Protection
Always engage an expert firm with proven knowledge, experience.
When selecting a firm for Lightning Protection, it's important to choose one with a proven track record of knowledge, honesty, and integrity. Certifications from manufacturers or trade associations are not necessarily proof of a contractor's qualifications, but Harger factory-trained installers have received classroom training and have extensive experience and certifications for their work. Harger has over 50 years of experience in designing and certifying lightning protection systems across the country.
Be sure your system has an Underwriters Laboratories Master Label Certificate.
When installing a lightning protection system, it's important to ensure that the contractor can provide a Master Label Certificate from Underwriters Laboratories (UL). UL is a trusted inspection organization dedicated to public safety and has over 100 years of experience in testing and inspecting lightning protection systems. The Master Label Service involves factory testing and inspection of components and field inspection of completed systems. To verify that your lightning protection system has been issued a UL Master Label Certificate of Inspection, you can log on to www.ul.com/lightning.
Compare quality before you buy.
When purchasing a lightning protection system, it's important to avoid basing the decision solely on price or purchasing from untrained sellers. To ensure a safe and quality system, it's recommended to ask for a design drawing and a list of materials included in the contract price and compare these between proposals. It's important to choose a well-engineered, high-quality system and avoid cheaper, low-quality options. Harger produces only high-quality components that are factory tested and inspected by Underwriters Laboratories and are identified by the UL Listed marking and control number 50H2.
….More than 18,000 homes are damaged or destroyed each year by lightning? Annual property loss reaches into the hundreds of millions of dollars.
…Plug-in surge protectors don't always protect your computers and other household electronic systems?
…Trees do not protect? They frequently provide a path for lightning to follow into your home or building.