Is Your Panel Safe? Is Your House At Risk Of Fire?
If you have a Federal Pacific panel you need to call Laswell. We can give you back your peace of mind.
Read the facts about Federal Panels below.
Federal Panels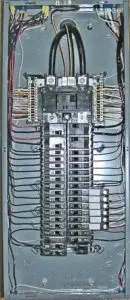 Panel Changes / Service Upgrades
Laswell Electric Company knows that some clients have older electrical systems and at times are forced to upgrade their systems or their old systems have completely died. Sometimes you need to upgrade due to added power usage or moderation, and if you need it done correctly then you can trust Laswell Electric Company to professionally install it. Our prices are very competitive with our competitors but trust when you choose Laswell Electric Company you get professionals that you know will get it right the first time. 
Why Add Surge Protection?
Homes today contain an average of over $15,000 worth of unprotected equipment. Surge strips only offer low-level suppressions, leaving them powerless to block appliance-damaging surges. Whole Home Surge Protection blocks the shock caused by surges at the load center, so you can rest assured your electronics are protected.
Often people think of power strips when they hear "surge protection". Commonly used as an extension to outlets, many power strips offer no surge suppression at all. Others offer only low-level surge suppression, leaving them subject to surge damage.
Everything Electrical is Protected – Whole Home Surge Protective Devices reduce higher-level surges that might otherwise overwhelm plug strips and damage connected household equipment. Whole home surge protection also provides surge suppression for important items that are not compatible with plug strips, such as a home's HVAC, washer, dryer, refrigerator, stove, oven, and lighting. Protect your investments today by calling Laswell.