Laswell Electric is a residential electrician in Audubon Park, KY, serving the community for over 35 years. We offer a full spectrum of services from installing new light fixtures to new home builds and everything in between. Laswell Electric has been serving the Kentuckiana area for over 25 years.
Home Electrical Upgrades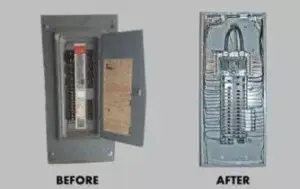 Residential electricians in Audubon Park, KY are often needed to help with the renovation or remodeling of older homes. In addition to adding and moving things such as outlets and light fixtures we can also upgrade entire electrical panels. If your electrical panel is outdated it may start to experience problems or you may have recently learned that your electric panel is not up to code. Having a panel that is not up to code is not only unsafe but it also will prevent your house from passing an inspection when you go to sell.
Advanced Residential Electrical Upgrades
In addition to the traditional electrical services we also go beyond that with our smart home technology.  Many people in Audubon Park, KY are now wanting the ability to control their homes with just the fingertips! At Laswell Electric we keep up-to-date with the latest technology.  We also offer comprehensive home security systems for homes of all sizes. You can learn more about our home security services by clicking here.
Lightning Protection in Audubon Park
Lightning Home Protection in Audubon Park, KY is also growing in popularity. A properly designed and installed Lightning Protection System will protect LIVES and PROPERTY against lightning damage. Such a system is designed to safely carry lightning currents to ground without damage to the protected structure. A typical system will consist of air terminals (lightning rods) and ground terminals which are connected together with low impedance conductors.
If you find yourself in need of a Audubon Park, KY residential electrician, contact us today.